The Thousand Autumns of Jacob De Zoet, by Cloud Atlas author David Mitchell is a multi-genre novel set in Edo era Japan, on the man-made island of Dejima. This synopsis is as follows:
"Set in atmospheric coastal Japan, this epic story centers on an earnest young clerk, Jacob de Zoet, who arrives in the summer of 1799 to make his fortune and return to Holland to wed his fiancée. But Jacob's plans are shaken when he meets the daughter of a Samurai."
To promote the launch we were asked to build a physical environment in a public space where the book could be seen and promoted.
We interpreted the brief as an opportunity to build a curatorial space that would enrich the experience of reading the book – but ultimately let it speak for itself. We wanted to create an installation removed from every day life that struck the right balance between comfort, immersion and restraint – to make the reader feel involved with the story and characters but with a minimum of distraction.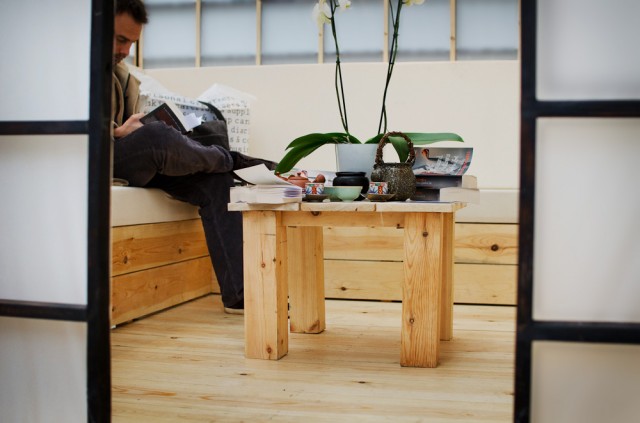 We worked with the design-workshop duo JAILmake to help us realise the build. Our primary concern was creating a space where the book – or any book – could be read with the minimum of distraction. We designed an airy environment that let in plenty of light. Integrated furniture was designed to comfortably facilitate the many ways people choose to read.
To match the space to the book uniquely we borrowed several traditional Japanese architectural tropes – but made an active effort to err towards simplicity and avoid cliché.
A space was secured in Old Spitalfields Market, where visitors and local workers could drop in as the passed by. Many of the books events occur on Dejima, a man-made market island in Nagasaki bay connected to the mainland by a narrow bridge. At the time Dejima served as the only link between western civilization and the isolationist Japanese society of the time. To reflect this, our reading room could only be entered via a gangplank. The raised floor, we felt, helped enhance the sense of entering "another place".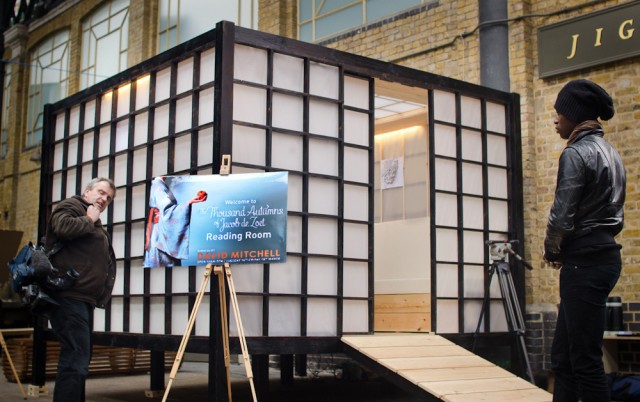 We worked with musician/ sound designer Nick Ryan to make an ambient surround-sound piece. Taking cues from the literature we composed a non-invasive mix of coastal and market noises to create an underlying atmosphere that would enforce the mood of the early chapters.
Reading Room Ambient – Nick Ryan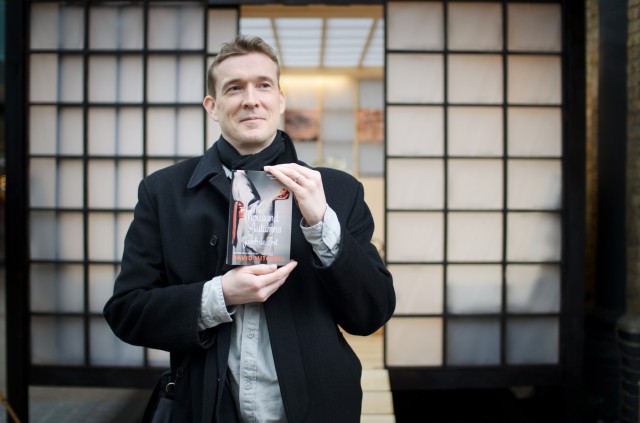 We built applications for Facebook and the web, so readers could submit reviews of the work and discuss their favourite parts of the story. Samsung kindly gave us several Galaxy Tabs so this could be done on location.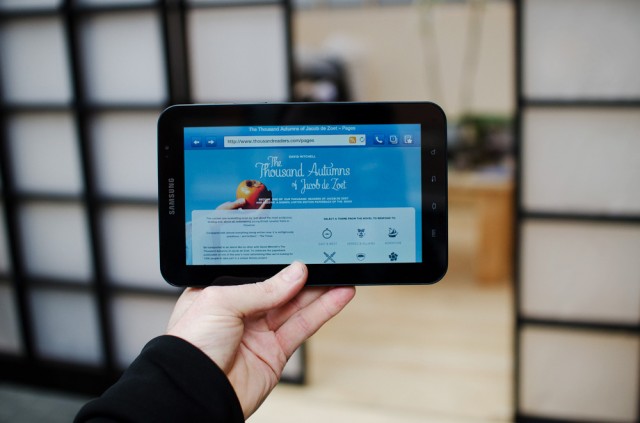 ---
Clients:
David Mitchell – author
Sceptre – publisher
Partners:
Unity – campaign managers
The Tom Sawyer Effect – social media consultants
JAILmake – fabrication and creative consultation
Nick Ryan – ambient sound design
Old Spitalfields Market – installation host
Samsung – supporter