A Brief Musing On Theme Parks
Chris Waggott
29th August 2011
I'm fascinated by theme parks. Not because of the roller coasters or thrill rides, I can take or leave them…
What gets me going is the childish delight from entering imagined spaces, with their caricatured constructs of fibreglass rocks and hessian sacks.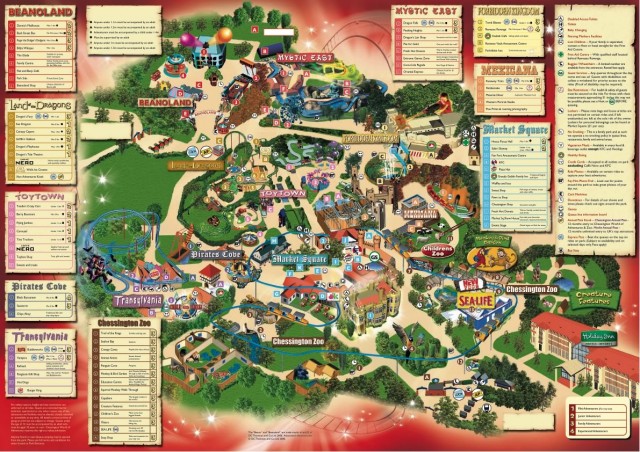 Image taken from http://www.cwoainsider.co.uk
Images taken from http://www.chessingtonbuzz.co.uk and http://themeuk.net
One of my personal favourites is the Transylvanian area of Chesington world of adventure, with large cartoonish Germanic half-timbered buildings, gargoyles, bat motifs and eerie organ music wafting out of cobwebbed windows.
When walking into one of these areas reality becomes suspended, and a fictional scenario is played out around you through every device possible;
The physical constructs of the space and layout; the sounds that are pumped out of small speakers hidden in the rocks; the strange musty smells; they all add together to create a multi-dimensional story that you can interact with. What's especially interesting is when this narrative bleeds into the rides – this is something I think deserves looking deeper into.
Image taken from http://www.altontowers.com/
The best example I can think of is 'Hex' at Alton Towers.
On it's own, it's a rather mediocre ride, but incorporating the queue into the experience takes the visitor on a trip through a  semi-fabricated history full of witches and cursed trees. The attention to detail is amazing, with film, sound and set dressing all coming together to give the audience a complete narrative experience.
Over the next couple of months I'm intending to look deeper into the subject of theme parks as examples of multi-dimensional narrative constructs and experience, and discuss people using similar ideas in their work such as Brendon Walker and his Thrill Laboratory, but for now I'll leave you with the radness of the film from Hex: