Hello Lamp Post – What are people saying?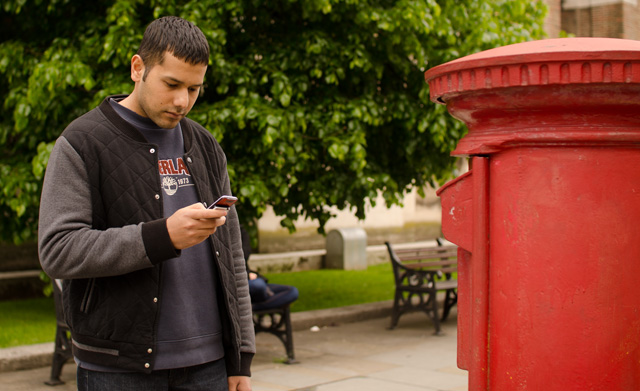 Sam Hill
2nd August 2013
We've now had around 12,000 player messages come through on Hello Lamp Post. The website randomly cycles approved questions and answers, but we thought it might be interesting for you to see what our favourite responses are – the ones that have made us smile the most while moderating content.
The three main themes behind our enquiry are around shared observations, memories and opinions – we're trying to give people a context and platform to be more mindful of the environment around them, to trigger their most salient memories of the places they live in, and to communicate these things, along with their perspective and learnings, to each other.
With that in mind, have a look at these…
Observations
---
If you listen carefully, what's the quietest thing you can hear?
Via parking meter #2995: "Fingers clenched to moving parasols"
Via lamp post #21: "The wine sloshing in my back pack"
Via lamp post #3: "I'm blasting drum and bass through my headphones, nothing is quiet…"
Can you smell something?
Via lamp post #103: "Fresh broad beans – I'm podding some now and can't resist popping one or two from each pod in my mouth raw. Yum."
Via bench #6bs: "Ice cream and dry kebab fat"
Via lamp post #1: "The fresh scent of the rain and the earth – the scent of the outdoors!"
I can't turn. Can you tell me what's behind me?
Via parking meter #2717: "Bristol Library. A most beautiful library and one of my favourites."
Via station #bri1: "A man in a yellow Jamaican shirt with a pot plant in a plastic bag. But he's more 'in you' than 'behind you'."
Via green box #6: "You are in front of Colston Hall, you must enjoy listening in on the concerts"
Memories
---
Tell me a childhood memory you remember well?
Via post box #bs4127: "I remember a very snowy day when we made a sledge to go and get some milk from the shops."
Via bus stop #11020515: "Walking through Broadmead after watching a Doctor Who story about showroom dummies that come alive. Very scary."
Via bridge #per1: "I remember when Peros bridge was built, people said the horns were ugly but they just fit in now."
What's your favourite memory of Bristol
Via Harbourside #hrb5: "Taking my son to see the Balloons take off at Ashton Court Balloon Fiesta for the first time. He was 4 years old 'Come back balloons! I love you!' "
Via station #bri1: "My favourite memory of Bristol is celebrating St Pauls carnival 2010, it was my first after moving from London and I loved the energy and the jerk chicken!"
Via Harbourside #hrb5: "Surviving 2.8 hours later!"
How has Bristol changed, in the time that you've known it?
Via City Hall #ch1: "I've lived here for 25 years, and one really noticeable thing is the increase in COLOUR! I love how street art is flourishing here…"
Via City Hall #ch1: "Park St has less shops of interest but Stokes Croft on the other hand is now brim full of boutiques so maybe it's a location thing?!"
Via City Hall #ch1: "Stokes Croft has gone from uninhabitable to somewhere I never want to leave."
Opinions
---
Are there any rules that you live by?
Via lamp post #hrb3: "The rules of the game. I just lost the game."
Via bridge #per1: "Always hold hand when we cross the road."
Via lamp post #350: "No I'm limitless"
If I was yours for the day, what would you write on me? (Asked by a billboard)
Via billboard #cabt: "Everything will be ok"
Via billboard #cabt: " "I love you!" so that everyone who went past would think it was for them XD. "
Via billboard #cabt: "I think I'd write 'be excellent to each other'."
What would be your super power? (And why?)
Via parking meter #2721: "To be able to grow money out of my belly button"
Via crane #29: "The ability to float above water – because we could make some side cash"
Via Biggles #2688: "Super beak that can tap tap tap on the top of peoples heads… Why: pick peoples brains"