We launched Hello Lamp Post.
Ben Barker
15th July 2013
We're live! A thoroughly enjoyable 6 months of work culminated yesterday in a high-tea fuelled launch on College Green. The first conversations with Bristol's street furniture were held in a marquee in front of City Hall.
It was great to see so many faces from the duration of the project again. We had play testers and sponsors, judges Imogen and Clare and even Bristol's Mayor George Ferguson texting lamp posts. A massive thanks to you all for testing, talking about and guiding the project. Our biggest thanks however, are reserved for Clare and Verity at Watershed. This project's realisation is as much due to their hard work and enthusiasm as ours and we're extremely grateful.
Even at less than 24hrs old we've had nearly 900 responses, and people all over Bristol are getting involved. We've had people sharing historical facts on City Hall, thanking lamp posts for helping with their fear of the dark and reminiscing about their experiences in Bristol. A select few from the last hour are below:
What's your favourite memory of Bristol?
Watching the old Wills buildings being demolished at 6am many years ago

Have you been waiting here long?
I have not been waiting long for a bus … But it feels like i've been waiting all my life to talk to a bus stop.

I was thinking of taking up a hobby – do you have one?
I love to play cricket. I'm not sure bridges can play cricket though!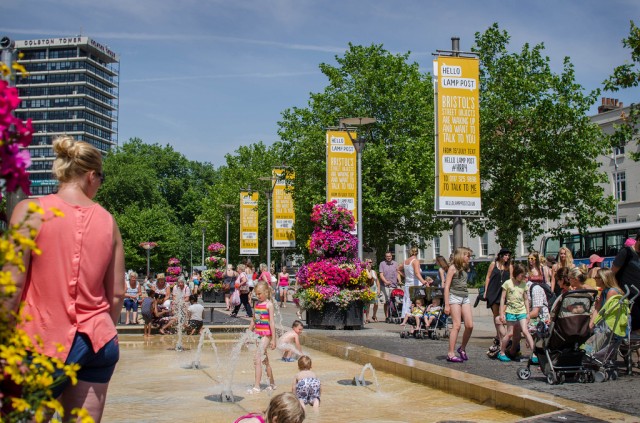 We also have a beautiful miniature of our eponymous lamp post and 4 of his co-stars in the foyer at Watershed. Come down and have a chat to them and learn more about the project.
Keep an eye on the website for a snapshot of what people are waking up and talking about. As the project evolves we'll be learning how people use the system and tweaking as we go, the most exciting thing of all is we only have a hunch how people will play. There's lots of potential for different types experiences, such as branching narratives and objects with specific agendas so keep looking for new things to talk to and visiting old ones. We're just getting started.
There are more images in this set.